Partial Solar Eclipse of 25th October, 2022
A Partial Solar Eclipse will occur on 25th October, 2022. A solar eclipse occurs when the Sun, Moon and Earth are in aligned in almost exactly a straight line such that the Moon's shadow falls on the Earth. Solar eclipses can occur only on new moons, but not all new moons have a solar eclipse.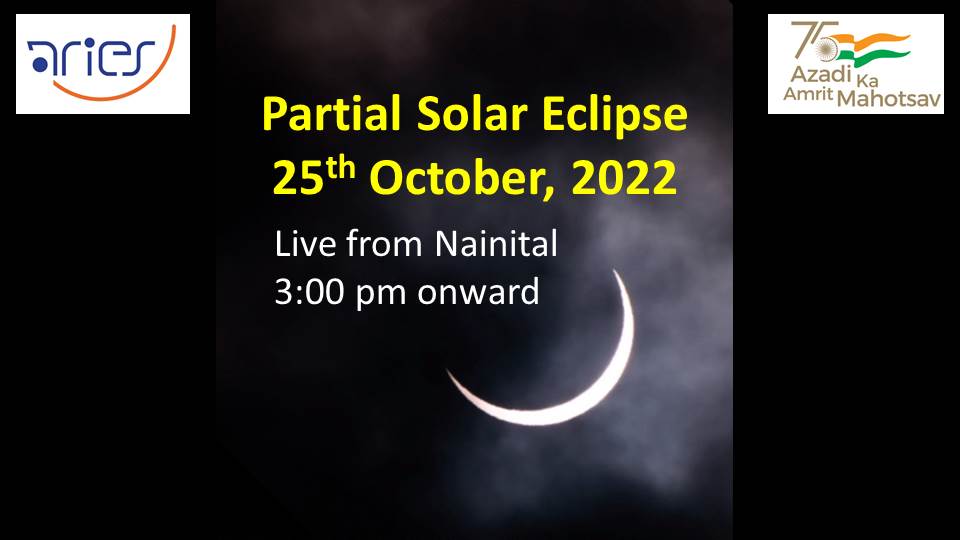 A short introductory talk on solar eclipses will be delivered by Dr. Virendra Yadav at 3:00 pm on October 25, followed by a Q&A session. Live streaming of the Partial Solar Eclipse will start at 4:00 pm from ARIES, Manora Peak, Nainital. Telescope with filter & solar eclipse glasses will be available for visitors coming to ARIES, Manora Peak, Nainital 4:00 pm onward for watching the eclipse. We will also offer snacks to the visitors.
Note: Never look at sun or a Solar Eclipse with naked eye or telescopes without filter or binoculars as it can cause permanent eye damage.
What do you need to watch this Solar Eclipse?
Clear western horizon, solar eclipse glasses or a telescope with attached solar filter. If u don't have these, then u can see eclipse's projection on a screen or on ground using a pinhole camera. Click here to learn how to make a pinhole camera. Or you can join us online on our Facebook page & YouTube channel.
Is it safe to go out/eat/cook/do some work during a Solar Eclipse?
Yes, a solar eclipse doesn't affect any of these. It's just Moon's shadow falling on you. Not going out/eating /cooking/working during an eclipse are superstitions.
To know more about the visibility of the eclipse from other locations, live feeds from other astronomy institutes in India, an android app for solar eclipses and other useful and relevant resources, kindly go through this webpage or the below flyer by the Public Outreach and Education Committee, Astronomical Society of India (ASI-POEC).