The ​4 m ​International ​Liquid Mirror ​Telescope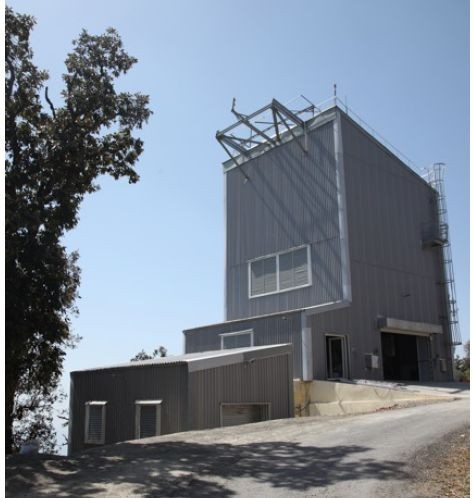 The ​technology ​of ​liquid ​mirror ​(LM) ​telescope ​is ​relatively ​simple. ​Three ​components ​are required:
​A ​dish ​containing ​a ​reflecting ​liquid ​metal ​(essentially ​mercury),
​An ​air ​bearing ​on which ​the ​LM ​sits, and
​A ​drive ​system.
To ​operate ​the ​air ​bearing ​an ​air ​compressor ​is ​needed. ​However, ​in ​order ​to ​avoid ​any interruption ​of ​the ​mirror ​rotation ​(cf. ​during ​the ​maintenance ​of ​the ​compressed ​air ​system), ​it is ​best ​to ​have ​two ​parallel ​air ​systems. ​Therefore, ​we ​have ​installed ​two ​Air compressors, ​both of ​which ​are ​of 'High ​quality ​rotary ​screw ​air ​compressor' ​with ​full ​PLC ​controller ​and ​can deliver ​free ​air ​at ​pressure ​as ​high ​as ​10-13 ​bar, ​needed ​to ​operate ​our ​air ​bearing ​systems.
The ​mercury ​mirror ​of ​the ​ILMT ​has ​a ​4 ​meter ​diameter ​with ​an ​aperture ​of ​f/2 ​defined ​by ​the speed ​of ​rotation. ​A ​4Kx4K ​CCD ​camera ​manufactured ​by ​'Spectral ​Instruments' ​and ​which ​can operate ​over ​the ​4000 ​to ​11000 ​Å ​spectral ​range ​(SDSS ​filters ​g', ​r', ​i' ​are ​available), ​will be ​positioned ​at ​the ​prime ​focus ​of ​the ​ILMT ​at ​about ​8m ​above ​the ​mirror. ​The ​mirror ​being parabolic ​in ​shape ​requires ​an ​optical ​corrector ​to ​get ​a ​flat ​focal ​surface ​of ​about ​27 ​arcminute in ​diameter. ​All ​these ​elements ​are ​mechanically ​coupled ​by ​an ​external ​structure ​and ​a ​spider.
Given ​the ​zenith ​observing ​mode ​of ​a ​liquid ​mirror ​telescope ​and ​in ​order ​to ​access ​the ​northern galactic ​pole, ​the ​Devasthal ​observatory ​is ​ideally ​located ​in ​latitude ​(near ​+29° ​22' ​26"). ​From this ​site, ​a ​deep ​(i' ​= ​22 ​mag) ​survey ​will ​approximately ​cover ​50 ​square ​degrees ​at ​high ​galactic latitude, ​which ​is ​very ​useful ​for ​gravitational ​lensing ​studies ​as ​well ​as ​for ​the ​identification ​of various ​classes ​of ​interesting ​extragalactic ​objects ​(cf. ​new ​quasars, ​supernovae, ​clusters, ​etc.).
The ​first ​light ​of ​ILMT ​is ​expected ​before ​the ​fall 2021. ​After ​first ​light, ​the ​continuous zenith ​monitoring ​within ​a ​narrow ​27 ​arcminutes ​strip ​of ​sky ​at ​latitude ​of ​~+29° ​22' ​26" ​will ​be carried ​out ​for ​a ​duration ​of ​at ​least ​next ​five ​years ​(or ​more). ​The ​key ​features ​of ​the instrument/detector ​are ​as ​below:
| | |
| --- | --- |
| Detector: | 4k x 4k CCD camera |
| Manufacturer: | Spectral ​Instruments |
| Operational ​wavelength: | 4000 ​to ​11000 ​Å ​spectral ​range |
| Filters: | SDSS ​filters ​g', ​r' ​, ​i' ​ |
| Integration ​mode | Time ​Delayed ​Integration ​(TDI) ​mode, ​i.e. ​it ​tracks ​the ​stars ​by electronically ​stepping ​the ​relevant ​charges ​at ​the ​same ​rate ​as ​the ​target drifts ​across ​the ​detector ​(integration ​time ​about ​102 ​seconds). |
Access ​to ​ILMT ​data ​archive ​will ​be ​provided ​through ​a ​dedicated ​arXiv ​[link ​will ​be ​provided here] ​after ​pre-processing ​of ​the ​data. ​Data ​will ​be ​provided ​to ​all ​the ​astronomical ​community, through ​a ​policies ​framed ​by ​partner ​institutes ​after ​the ​first ​light.
The ​4m ​International ​Liquid ​Mirror ​Telescope ​(ILMT) ​project ​results ​from ​a collaboration ​between ​Aryabhatta ​Research ​Institute ​of ​Observational ​Sciences ​(ARIES, ​India), the ​Institute ​of ​Astrophysics ​and ​Geophysics ​(Liege ​University), ​the ​Canadian ​Astronomical Institutes, ​University ​of ​Montreal, ​University ​of ​Toronto, ​York ​University, ​University ​of ​British Columbia ​and ​Victoria ​University.
For ​more ​detail ​please ​visit:
http://www.ilmt.ulg.ac.be/home/